Baldwin House Community Collective
Creating an affordable housing cooperative and mutual aid hub for working class Washingtonians in DC.
We bought an apartment building in Northwest DC to transform into a visionary community space: an affordable housing cooperative and a mutual aid hub.
In June 2021, we launched an experiment: could neighbors replace investors and developers to create a housing cooperative and mutual aid hub?As a mighty group of about a dozen people combining our time, labor, skills, willingness to learn, and love for our community, we organized to make a counter-offer on a fellow organizer's building that was going up for sale. The original offer would have kicked residents out on Christmas Eve with only a few weeks notice, and pushed a committed organizer out of DC as a result. Instead, two years later, the building is in control of a group of talented co-op members supported by the broader Baldwin House community.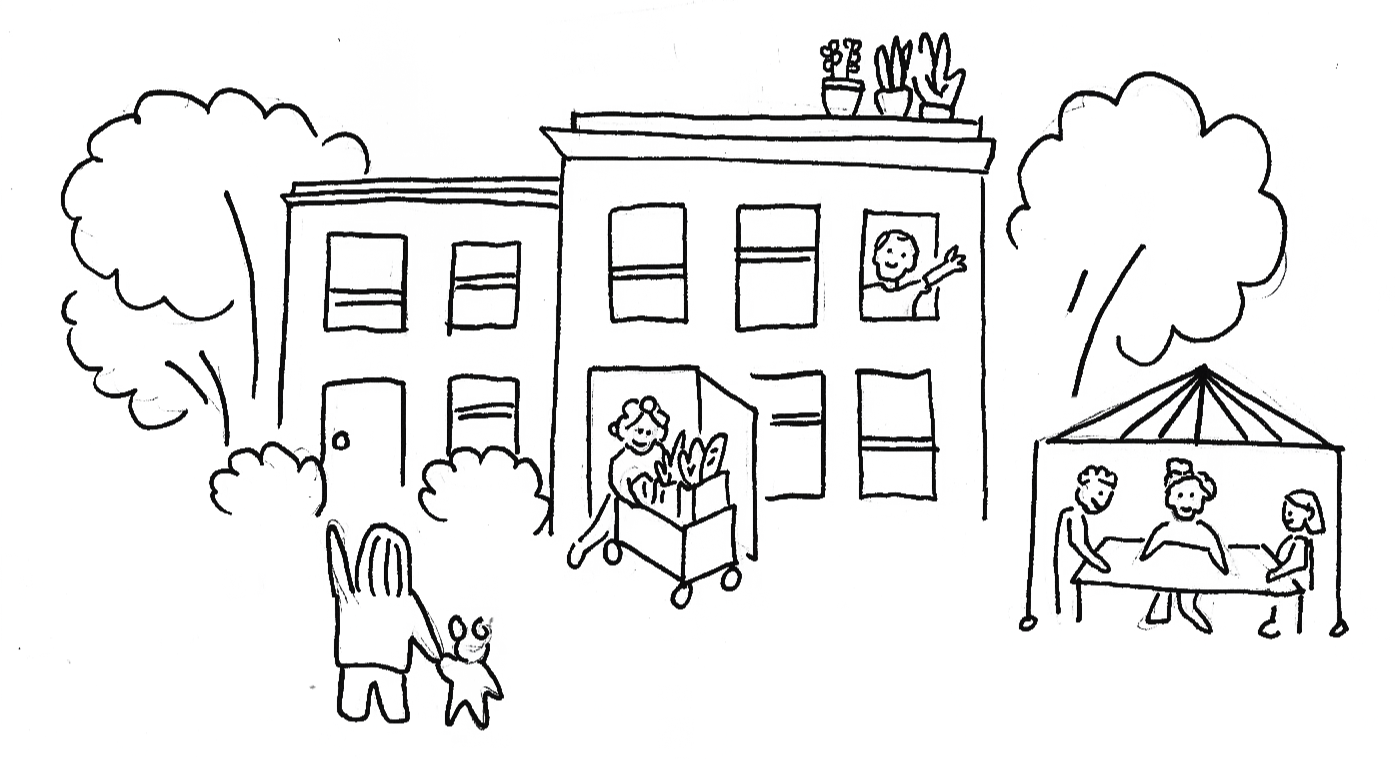 We wanted to show that a community can come together to secure land and create community spaces in service of and governed by the people. But we did much more to make this a reality. We acted…
As decision-makers: This building will forever be in community control. Residents will have stable monthly costs and access to a community gathering space inside our mutual aid hub.

As an alternative to developers: Neighbors came together to back tenants to buy this building. Our all-volunteer team mobilized over two years to compete with a market rate offer to buy the building, building the necessary infrastructure to purchase a building in this system.

As an alternative to investors: Over 500 donors contributed over $600k in donations, and 15 people loaned money through our Community Fund.
Want to get involved?
We welcome your support! We are eager for people to:
Join our outreach team to share this project with neighbors

Offer financial support, individually or through a foundation

Host fundraisers to help continue to make this project sustainable

Help manage our social media channels

Provide something we haven't thought of!
We raised over $1.7 million to make this happen.
Here's a small selection of what we've accomplished over the past two years:
| | |
| --- | --- |
| Form a tenant organization to have the right to purchase the building. | Done! |
| Negotiate contract terms with the seller. Sign the contract. | Done! |
| Fundraise $125,000 for an initial earnest money deposit on the building. | Done! |
| Fundraise $200,000 in financial support for current tenants. This supports their move if they choose not to stay in the co-op. | Done! |
| Mobilize an outreach team to continue sharing this project with neighbors. | Ongoing |
| Continue applying for grants for affordable housing, housing preservation, and Black-led organizations. | Ongoing |
| Secure financing to purchase the building. | Done! |
| Fundraise additional funds to support construction costs | Done! |
| Continue to organize future co-op members | Ongoing |
| Connect with other cooperative housing initiatives in DC | Ongoing |
"Those who say it can't be done are usually interrupted by others doing it."
James Baldwin, Notes of a Native Son
About us
We are a team of local organizers from the Ward 1 DC Mutual Aid Network, a grassroots, community-led effort to take care of our neighbors. We are all committed to creating more tenant-owned affordable housing and learning how to make it a reality together. We bring our full experiences and skills to this effort, including in organizing, housing law, housing policy, co-op contracts, grant writing, fundraising, event planning, design, and development.
We are also collaborating closely with experts on affordable housing in DC, real estate, contract law, housing grants, property management, and more. We are grateful for their support in moving this project forward.Our collaborators:
| | |
| --- | --- |
| Local Initiatives Support Corporation (LISC) | Lender |
| North American Students of Cooperation | Fiscal sponsor |
| Beloved Community Incubator | Legal advisors |
| Ella Jo Baker Intentional Community | Mentors and inspirers |
| Howard Fair Housing Clinic | Legal advisors |
| Mi Casa | Development consultants |
| Page Southerland Page | Architect consultants |
| UDC Community Development Law Clinic | Legal advisors |
| Embolden Real Estate | Development consultant |
| Studio Lyew & EMOTIVE Architecture | Project design team |
Our mission as a Nonprofit:
Center communities that have been historically excluded from generational property ownership.Model intentional collective living and collective spaces that allows communities to safely grow, create, and thrive and provides an alternative to the cycle of displacement and gentrification.
Our Vision as a Nonprofit:
Learn and practice how to build concrete alternatives to commodified, displacement-driven housing by transforming a building that if sold would contribute to gentrification, cause significant harms to resident wellbeing, and create a cultural loss for the community.
© Baldwin House Community Cooperative. All rights reserved.